In February, Impact Florida held its fourth Learning Walk in the School District of Palm Beach County. On this visit, cadre leaders came together to learn about how Palm Beach County schools are increasing access to high-quality instructional materials – one of Impact Florida's Five Conditions That Support Great Teaching – to empower each student to reach his or her highest potential.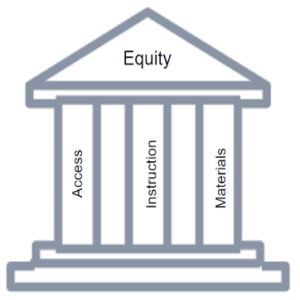 In Palm Beach County, providing high-quality instructional materials to all students means more than just assessing the rigor of texts. It means selecting culturally-responsive curricular materials that resonate with their student populations, opening up advanced and accelerated course enrollment to make them more demographically representative, and supporting teachers in differentiating instruction for diverse learners without lowering expectations.
"The district's approach is designed to 'meet students where they are,' instead of trying to shoehorn them into our rigid curriculum structure," said Diana Fedderman, Assistant Superintendent of Teaching and Learning. "We strive for our curriculum to be a mirror and a window, so students both see themselves in the materials and can see beyond themselves into the world through the materials."
Stronger, Together
Palm Beach County has prioritized equity in its work. During the day, district leaders shared a copy of the Palm Beach County School Board's equity policy that it approved in 2018, which calls for the district to "eliminate implicit and explicit biases and create truly inclusive, culturally responsive school environments" for its staff and students.
As the Palm Beach County School District, like the rest of the state, prepares for an English Language Arts materials adoption cycle under new standards, they are committed to making equity part of that conversation. The team has developed a curriculum adoption rubric that will be used to hold publishers accountable to the district's goals for culturally responsive materials during the next curriculum adoption cycle.
Not Just a Number
One of the most memorable parts of the day was connecting the district's strategies for increasing access to high-quality materials to the faces and stories of current students. The district invited students from John I. Leonard High School to speak to the cadre about how the opportunity to be in advanced courses has impacted their lives.
For some, the opportunity had changed their beliefs about what they thought they were capable of. One student said, "The experience taught me to believe in myself. I was comfortable taking the risk because I knew that there were people in the school who would help me succeed."
For others, the opportunity to complete the Cambridge AICE diploma completely changed their life's trajectory. Upon completion of the Cambridge AICE diploma and 100 hours of community service, students become eligible for the Florida Bright Futures Scholarship Program – offering a new pathway to college that otherwise may not be possible without the scholarship.
"Being able to hear evidence of the work's success was truly impactful," Pasco County Schools Chief Academic Officer Vanessa Hilton shared. "It made us want to double down on the equity commitment we are making to our students. Now we've seen it in action and know that it can work."
Learnings from Palm Beach County will be captured and shared in a "Case for Impact" in the coming months. The Cadre's fifth walk will take place in Miami-Dade County Public Schools in late February.
You can learn more about the learning walks at impactfl.org/districts-for-impact.