Happy Teacher Appreciation Week!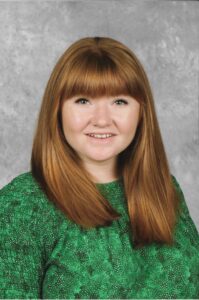 At Impact Florida, we have been working with a fantastic group of teachers from across the state for our Solving with Students Cadre, specifically designed to improve student experience in math and aid teachers in professional learning by utilizing student feedback. We wanted to take this week to honor some of our dedicated and passionate educators by introducing you to some of the teachers in the cadre. 
Josey Pearce is a first-year math instructor at Yearling Middle School in Okeechobee. She teaches 7th grade math and was excited to participate in the cadre to help her learn more about her students and their learning styles, and to utilize resources to help her grow and develop as a new teacher. She cares deeply about making an impact on her students and their math education. 
As part of the cadre, Josey is using a free, research-based tool called Elevate, designed by PERTS, to survey her students, learn best practices to address student feedback, and then incorporate new strategies in the classroom, in alignment with the Five Conditions that Support Great Teaching.
"Josey Pearce is a breath of fresh air in education right now. She's a first-year teacher who started this cadre hungry, humble, and eager to learn," said Tiana Pitts, a teacher coach from the New Teacher Center who has been working with Josey during the cadre. "I have truly enjoyed working with Josey because of her willingness to face the good, the bad and the ugly. She's grown so much in two short months, and her students have experienced better teaching because of it. I'm honored to watch her journey and support her along the way."
Josey shared her experiences with the Solving With Students Cadre in the following Q&A:
What interested you about this cadre, and the idea of getting student feedback on your teaching?
I had no idea what a cadre was when my principal shared the email with me. I explored the goals of the cadre and decided this could be a cool experience to learn by way of my students. As a new teacher, I wanted to find ways to grow through student interaction and liked the ideas of sharing the experience with other professionals. Many experienced teachers can provide ideas, but those ideas don't always target the exact needs and wants of the students sitting in my classroom. In the business world, the motto is "customer knows best," so why would the classroom be any different? 
What did your first round of survey results say, how did you feel about them, and what did you learn?
First of all, my students were not happy. A student specifically stated, "There is no classroom management." My heart broke. I had attended training and read through the CHAMPS book with dedication. Teaching 7th graders is not for the faint-hearted, and I've experienced many challenges with my different groups. My ratings might have been low, but I was just happy to know students bought in and participated. I told myself, "This is not defeat, this is your starting point," and I was grateful for the first step. 
The categories of classroom community, meaningful work, and student voice were my lowest learning conditions. I view the learning conditions in two categories: first, who I am as a person/human-being, which includes Affirming Identities, Feedback for Growth, and Teacher Caring, and second, who I am as a teacher, which includes Classroom Community, Meaningful Work, and Student Voice. 
This distinction is important because who I am as a person is not the same as who I am as a teacher. Simply, I show up differently in the classroom because I'm not yet comfortable being a teacher. As I grow into my teaching experience, I believe these will merge. But at this point, breaking the learning conditions down helped me understand how they are each connected but can be impacted differently, as well. 
How did you share your results with your students? Did you involve your students in interpreting the results, finding out why they gave the feedback? Why did you think it was important to engage them in what you were working on?
The first time I shared the results, I created a PowerPoint with the data and comments – with the averages of the three classes instead of individual class percentages. I walked the students through the meaning of each learning condition and how the percentage can be interpreted. I shared the comments from all three classes so students could see everyone's experiences, whether they have me first or last. 
The second time I shared results, I opened up the PERTS website and logged in. Students were still skeptical about whether their results were truly private and how their responses were being used. I walked them through the platform and showed them their overall class scores and comments. This time, the students didn't leave as many comments, so we had a class discussion on what constructive feedback is and why it is important. I explained, "Without you telling me exactly why you feel this way, I do not know how to fix it. I could make assumptions, but that doesn't mean it would be the right thing you want me to change." 
What are some of the strategies you're using to improve the classroom experience? Can you share how you came up with the idea to make a bulletin board with your data, actions, and goals? How has this helped you?
I've tried many different strategies since the beginning of the year. Each quarter, I was trying something new until I found a groove with my students. A few strategies stuck, and others failed miserably. I implemented an attention-getter called "Give Me 5." I purchased two standing desks to incorporate into my students' seating arrangements. Students also have choice boards they can utilize once a lesson is given, in order to continue academic work in a format they enjoy.
Before becoming a teacher, I worked with data. My favorite thing is to dive into data, understand its meaning, and present it in an understandable fashion. Helping my students understand the data is key to their participation. During the first survey, I had a few students leave comments about the quotes on my wall. It was at this moment that I realized they would read the bulletin board, as well!
It's been helpful that I have business experience in understanding organizational change. I recognized that the change taking place in the classroom can be supported much like change in an organization. In order to lead change, it's important to communicate the change. And the bulletin board was a great way to do this. It's also similar to implementing personal change by 'posting it' like a vision board. By combining these philosophies, my love for data, and an empty bulletin board, my idea came to life!
Have you shared with other teachers? What are you learning from them, and what do you think they are learning from you? What are their reactions/thoughts? 
If I could change one thing it would be talking more about my experiences. Surprisingly, I'm an introvert and tend to keep to myself, even in the school environment. I did share my results and experiences with my school mentor and my math PLC (professional learning community). I let them know I had applied and what was going on in the classroom. Sometimes, I would host PLCs in my classroom, and my group would read the survey results. My Cadre Coach, Tiana, was so amazing, and I brought up ideas she and I had discussed in the PLCs to see how we could implement them. 
WATCH: Josey Pearce presented to other teachers in the Solving with Students Cadre on a recent community call.
Do you think students' experience in math class matters to their achievement?
Absolutely! If a student is not enjoying their class (no matter the subject), they will not achieve the same as their counterparts who are. I noticed more engagement when the classes started using the survey because the students became conscious of how their actions relate to the classroom community. For the students who have taken the survey seriously, it has shown in the results and grades.
Thinking about past opportunities for professional learning, what has made this different?
This opportunity allowed me to try strategies in my classroom, assess their effectiveness, and make changes over time. My professional learning was not stagnant. As a new teacher with no education classes in my background, I've had to learn a whole new career! This is not easy, but my cadre experience has guided me to evaluate what already works in my classroom and make adjustments as needed – rather than undertake a complete overhaul of my classroom management. This has made the changes easily adaptable for my students. 
How has the coaching helped you reflect on your results and take action?
Tiana is my soul-sister! When I shared my experience with her, she volunteered that hers was similar. Neither of us was an education major, and we both discovered teaching while finding our true passion. It has been amazing talking to someone with so much knowledge and understanding of my specific grade and subject. As a new teacher, I felt overwhelmed with the results. But she has added additional guidance and pushed me out of my comfort zone to try new things. I asked her the other day, "Can you be my mentor forever?"