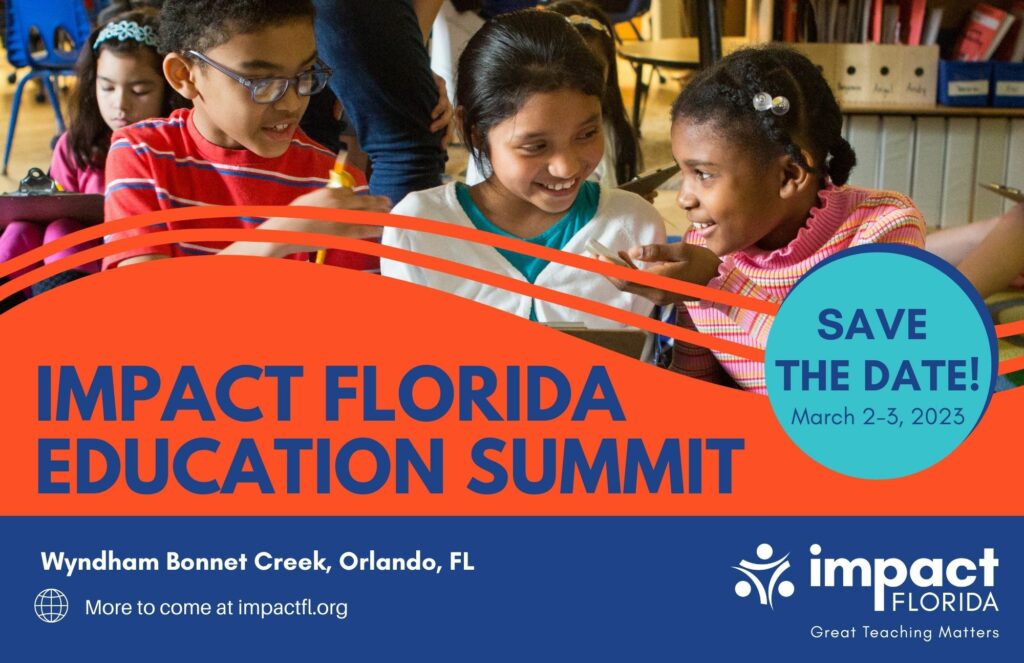 Watch: The 2022 Impact Florida Summit
In-Person Conference
Thursday, March 2, to Friday, March 3, 2023
Wyndham Bonnet Creek, Orlando, FL
Impact Florida's Education Summit is a unique opportunity for education leaders to recognize, support, and scale great teaching practices in Florida schools.
Please save the date for the 2023 Education Summit, taking place on March 2-3 at the Wyndham Bonnet Creek in Orlando, Florida.
During the Summit, education leaders will connect with colleagues across the state, learn from national experts and one another, and be re-inspired for the work ahead.
Registration will open soon - please join our email list to receive updates.
Registration Fee:
Regular registration is $300
Early bird registration is $270 before December 31, 2021
WATCH: 2022 Summit One-Minute Recap Video
The 2023 Impact Florida Education Summit is a premier K-12 education conference in Florida that brings together hundreds of school district leaders from across the state as well as local, statewide, and national education organizations. The Summit will provide best practices and evidence-based strategies from state and national experts as well as create networking and breakout opportunities for leaders to share and learn from each other. 
Sponsorships are available for companies and organizations to send representatives to the Summit and be recognized in both digital and in-person formats.
Click here for a detailed packet of information on our Summit sponsorship opportunities.
If you have questions or want to secure a sponsorship, please email Trey Csar or click here to schedule a time to connect.